National Geographic recently released the "Best of the World 2023" list. It reveals 25 incredible cities and towns to inspire your next trip. The community category in the list includes community-led conservation initiatives and sustainable travel.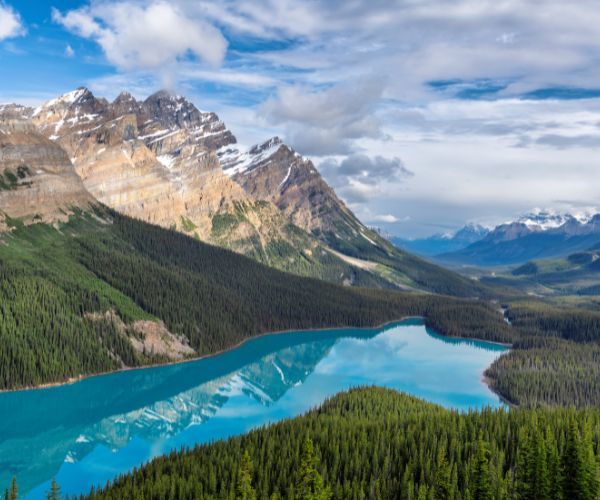 Alberta is on the list for the community category in 2023 for its efforts in Indigenous tourism. They are leaders in encouraging people to study the ways of life of the First Nations in North America. There are many reasons to visit the beautiful area of Alberta, Canada in 2023. One of them is the chance to learn about Indigenous culture and traditions. If you are seeking a meaningful experience, add it to your itinerary.
Edmonton
Edmonton, the capital of Alberta is the gateway to the north. It runs along the banks of the North Saskatchewan River and is three hours north of Calgary. Because of its position in the north, the winters are cold and gloomy. Yet, the summers may get warm and the sun is visible until midnight.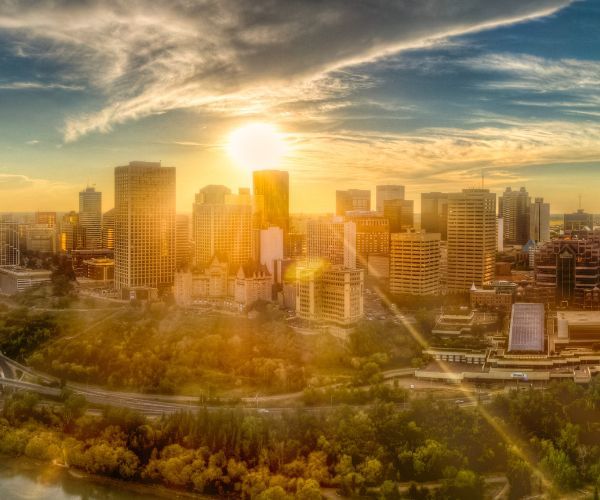 For thousands of years, Edmonton's riverbank setting has been a traditional meeting place. And it is the ultimate urban Indigenous cultural experience. You can enjoy the gastronomic delights of an Indigenous-inspired restaurant here. Pei Pei Chei Ow is a delicious breakfast or lunch-to-go option. It offers Indigenous food aiming to evoke memories and comfort.
The Boreal Forest Natural Region spans more than 58% of Alberta's land area. Moreover, it is a diverse wilderness critical to conserving Alberta's biodiversity. More than 85 mammal species live in the boreal forest. The wood bison, the biggest land mammal in North America, is one of them. Explore the vast northern parts of the boreal forest to spot bison.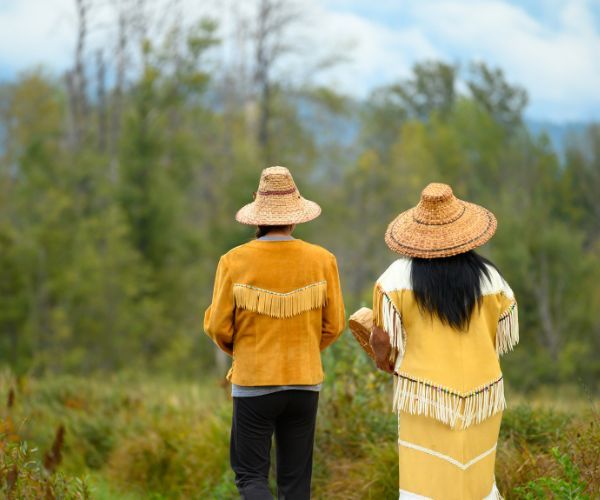 Visit Métis Crossing for a day and learn about how the Métis lived as trappers. See their traditional homes and discover the medicinal purposes of plants. Métis Crossing is Alberta's first significant Métis cultural interpretive centre. It is on 512 acres of property meant to engage visitors in immersive experiences. The building reflects the Métis community's values; self-sufficiency, respect and cultural pride.
Canoeing holidays are a Canadian tradition. Fur traders helped map Canada as early as the 1600s. They explored the rivers and lakes in what is now known as the Canadian Rocky Mountains. The Voyageurs were French Canadians who travelled by canoe from the 17th to the 19th century. They sold things like blankets and flour for furs. It was the First Nations who showed the Voyageurs how to build boats. Paddle in a voyageur canoe in the summer midnight sun and experience history on the water. Along the way, see a variety of wildlife.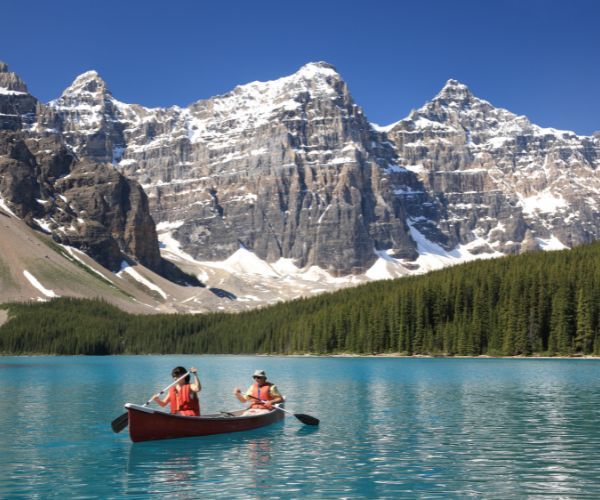 Edmonton has something for everyone. Fort Edmonton Park is ideal for history buffs, and the Art Gallery of Alberta is excellent for art lovers. If you enjoy science, go to the TELUS World of Science building.
The Rockies
The Indigenous peoples call the snow-capped Rockies, "The Backbone of the World." The area is a spiritual landscape of mountains, lakes, and abundant wildlife. Walk through valleys with an Indigenous guide in search of bears, elk, and moose. Learn about primitive survival techniques, the effectiveness of herbal medicine, and bushcraft. Visit art and cultural sites in Canmore, Banff, Lake Louise, and Jasper.
Banff National Park
Banff National Park's lands and rivers are sacred to the Indigenous peoples. They collect plant medicine and use the natural hot springs for healing. And for decades, they have fished, trapped, and hunted bison in the Rocky Mountains.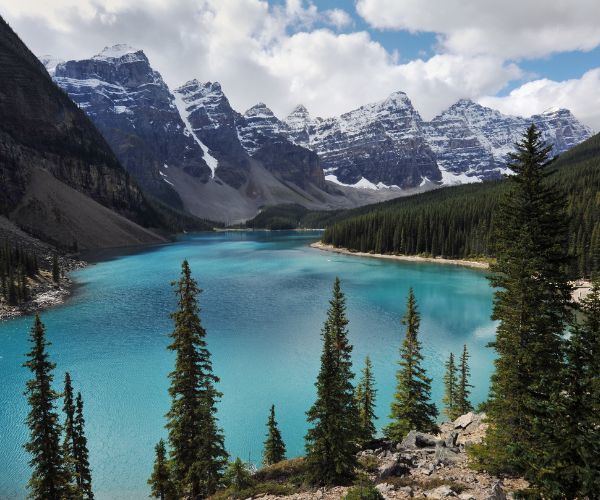 When Banff National Park was established, it was no longer possible to hunt and gather. This policy has changed over the last few decades. Parks Canada works with Indigenous peoples to honour traditional values and land stewardship. Take a medicine walk through the forest with an Indigenous guide and learn about plants. Gain a better understanding of how to use them for survival.
Jasper
Jasper National Park is a beautiful location with many outdoor adventures. A great way to explore the park is with a guided Indigenous tour. It will teach you about some of Jasper's rich Indigenous history. You will discover the original names of mountains, animals, and plants in the area.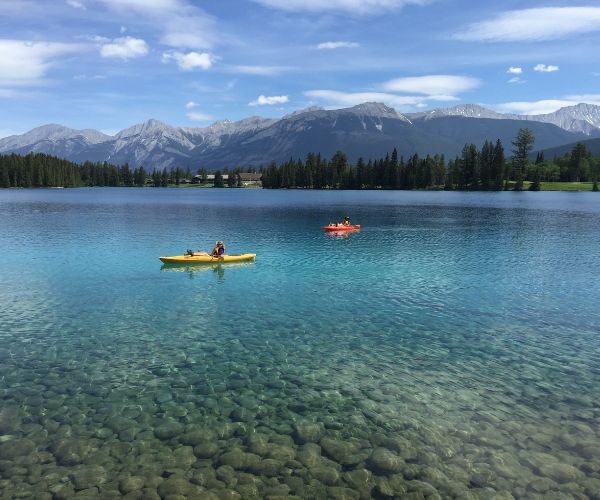 Central Alberta
The Central Alberta grassland landscape consists of farms, ranch land, and historic towns. Ride horses for a day or a week with skilled Indigenous guides. Learn about their culture and traditional bush survival skills. Try snowshoeing or archery. Hike trails through birch forests in search of wildlife and paddle down a serene river. In the evening, look up at the canopy of dazzling stars in the night sky.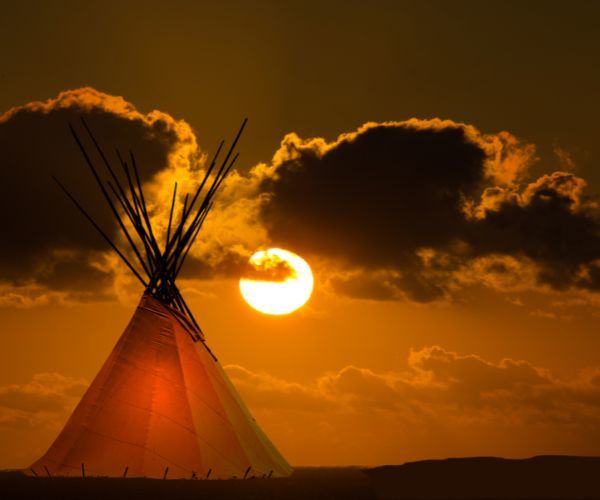 ---
IMPORTANT NOTICE:
If you are reading this article anywhere other than on A Luxury Travel Blog, then the chances are that this content has been stolen without permission.
Please make a note of the web address above and contact A Luxury Travel Blog to advise them of this issue.
Thank you for your help in combatting content theft.
---
Southern Alberta
You will find everything in one location. First, there's the Dinosaur Provincial Park to learn about Alberta's dinosaur history. Next is the Head-Smashed-In Buffalo Jump Interpretive Centre, a UNESCO-designated World Heritage Site.
Writing-On-Stone Provincial Park (snai'pi) is an iconic site not to be missed. It has enormous sandstone formations known as 'hoodoos' and a sandy beach. A must-see on any southern Alberta road trip. This destination is not only gorgeous, but it is rich in culture and history too. Enjoy plenty of adventure and animal viewing options.
The ancient gathering place at the Bow and Elbow Rivers is now Calgary's modern centre. It is complete with hotels, restaurants, and galleries.
Enter the fascinating Canadian Badlands to see First Nations culture. The area extends to the Saskatchewan border and south to the United States. It is home to the world's largest dinosaur bone deposits.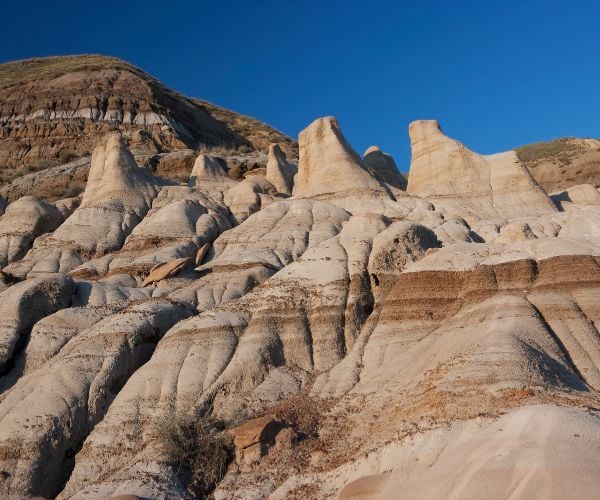 Immerse yourself in the motivational exhibits and performances at Blackfoot Crossing Historical Park. It is an hour's drive from Calgary and dedicated to preserving the Siksika Nation's traditions. Visitors can explore interactive displays to understand how Siksika First Nation culture evolved. The restaurant serves traditional Indigenous cuisine and the gift shop sells locally-made items. Watch drumming and dance while travelling back in time with stories from the past. Additionally, you can camp in a tipi outside the museum for an in-depth Blackfoot cultural experience.
It is not often that we get the opportunity to completely learn, engage and study Indigenous cultures and traditions while on holiday. Go on a journey to a beautiful place and have a life-changing experience.
Andrew Morten is the Founder of Little America. Little America creates bespoke, tailored trips to the United States and Canada.
If you would like to be a guest blogger on A Luxury Travel Blog in order to raise your profile, please contact us.