It all started in 1988 when a few people shuffled to the edge of a bridge near Queenstown, New Zealand, and jumped. Little did they know they were making history, and few anticipated the popularity or prosperous nature of the activity, let alone that it would put Queenstown on the map as an adventure destination.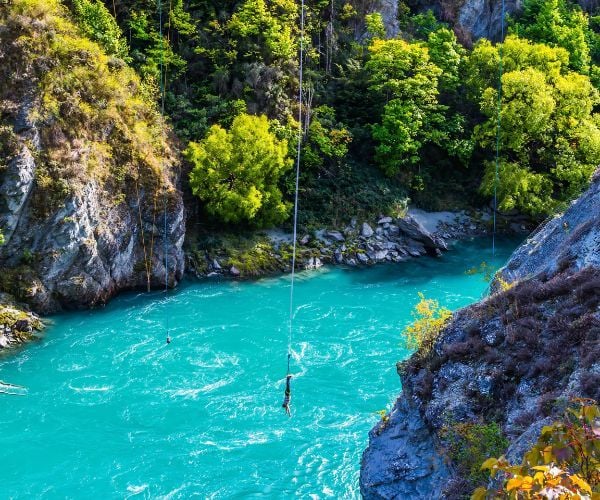 Queenstown has gone through a bit of a revival, transforming from a small ski town in the 80s to the current bustling adventure capital of New Zealand. Today, over 80,000 people bungy jump in New Zealand alone each year.
The adrenaline-pumping sports have expanded extensively, ranging from zip lining to abseiling. Once only known to rock climbers and bungy jumpers, the town has become the heartbeat of adventure in New Zealand, appealing to a broader travel audience.
The question in Queensland isn't "What can you do?" it is more about what can't you do? The list of activities is as long as they are challenging, including skydiving, mountain biking, white-water rafting, paragliding, canyon swings, and easy access to three ski areas.
Bungy jump, swing or zipline
Bungee is still king in Queenstown. There are presently three jump locations, spanning from 43 metres at Kawarau Bridge to 134 metres at Nevis Bungy. The Nevis Catapult is a bungy-style leap that propels you 150 metres across a ravine at 100 kilometres per hour, producing up to 3G of force before plummeting to the bottom of the valley. Of course, if bungy jumping isn't what you're in the mood for, try the world's steepest zip-line or giant swing.
Go jet boating
Jet Boating is one of the most popular activities in Queensland. Race across rivers and lakes in a speedboat, stopping barely a few centimetres from the shore. Laugh and scream in shock or enjoyment as the boat completes quick 360-degree spins, splashing water everywhere. It is a family-friendly activity and is available to do all year round.
The Dart River Adventures is undoubtedly the most exclusive jet boat tour. It originates in Glenorchy and travels along the Dart River to a place that is known as Paradise. It includes a bus tour back, a picturesque drive from Queenstown to Glenorchy, jet boating, and a nature walk. It's unquestionably among Glenorchy's top things to do!
See Mount Cook from the sky!
Skydiving is, without a doubt, the most extreme adventure activity available in Queenstown. You can choose from different skydiving activities with jumps open at 2750 metres, 3660 metres, and 4572 metres. Completing the highest and craziest 4572-metre jump earns you bragging rights!
You could also take a full-day tour to Mount Cook for an incredibly spectacular experience. Skydive from different heights and see Mount Cook, New Zealand's tallest summit, from above! Mount Cook is a must-see on any trip to the South Island.
Hydro Attack Shark
Well, you could say, only in Queenstown, because it is something you can only do in Queenstown. The Hydro Shark is similar to a jet ski, except it can dive underwater like a shark. If you've been to Lake Wakatipu, chances are you've seen it whizzing around the lake, popping in and out of the water.
Essentially you sit behind the driver, and the windscreen is closed over you. The shark will glide quickly over the water and dive under and out of it like the real thing. Book this well in advance as it gets fully booked out fast.
Whitewater rafting over the Shotover River
Queenstown's famous Shotover River is wild and untamed. Tackle this rough beauty and experience the thrill of whitewater rafting. Although you take on six rapids along the Shotover River, it is not all thrills and shrills. There are stretches of calm water to enjoy the scenery, swim, and learn about the river's gold mining history. But this would not be an epic adventure if it didn't end with rafting through the 170-metre Oxenbridge Tunnel and shooting the Cascade Rapid.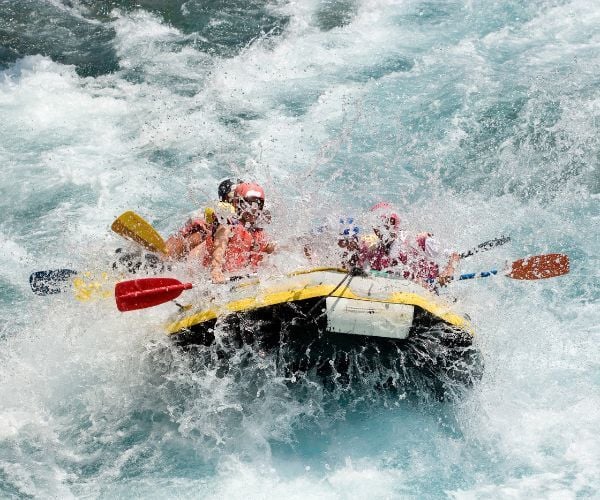 Ride the Queenstown Gondola
Board the Skyline Gondola for a 450-metre ride up to Bob's Peak (the Southern Hemisphere's highest cable car) Experience stunning views of Queenstown, the Remarkables mountain range, and Lake Wakatipu.
When you reach the top of the gondola at Bob's Peak, your day is far from done; there is still much to do. For extra excitement, ride the Queenstown Luge. The Skyline Queenstown Luge has become a sensation and a must-do activity in Queenstown. Jump on your specialised Luge cart and enjoy an exciting, gravity-fuelled downhill ride.
The Luge carts, located at the top of the Gondola, give you control as you navigate over 800 metres of turns, tunnels, and dippers. Take it leisurely on the Blue Track or fly through the bends and over the bumps on the Green Track, then hop on the chairlift and repeat. One ride will have you hooked, and you'll be going back for more.
---
IMPORTANT NOTICE:
If you are reading this article anywhere other than on A Luxury Travel Blog, then the chances are that this content has been stolen without permission.
Please make a note of the web address above and contact A Luxury Travel Blog to advise them of this issue.
Thank you for your help in combatting content theft.
---
At Bob's Peak, choose a relaxed cafe or indulge in a romantic lunch at Stratosfare Restaurant & Bar while admiring some of the best views in the Southern Hemisphere. End your day with a glass of wine and a beautiful sunset over Queenstown.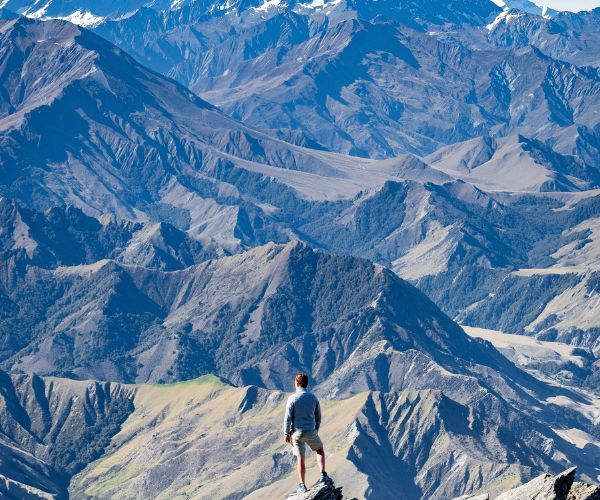 Cycle the Queenstown Trail
A fantastic way to explore Queenstown's quieter side is on the Queenstown Trail. It is one of New Zealand's 22 Great Rides, a network of routes that offer a safe and environmentally friendly way to visit New Zealand's exceptional places. Queenstown Trail allows you to explore Queenstown on a bike (or on foot) via 130 kilometres of stunning off-road routes. From Queenstown to Gibbston via historic Arrowtown, your adventure begins on the banks of Lake Wakatipu. Savour spectacular views of lakes, mountains, rivers, bridges, and breathtaking scenery.
Plan a stop in Gibbston and explore the oldest vineyards and the most extensive wine cave in New Zealand. Ride down the gorgeous Kawarau River to surrounding wineries while taking in the scenery. Signage along the path makes it simple to navigate your way to and from the winery, providing riders with quick access to some of the region's best wines and cuisine.
It would be an understatement to say that Queenstown has it all. Year-round it is without a doubt New Zealand's most popular tourist destination. Whether you crave the adrenaline chase or simply seek an easygoing adventure, you will find something to enjoy. Unwind in luxury hotels, dine at award-winning restaurants, and explore the lively town.
Andrew Morten is Founder of TravelEssence. TravelEssence creates bespoke, tailored trips to Australia and New Zealand.
If you would like to be a guest blogger on A Luxury Travel Blog in order to raise your profile, please contact us.