Micah Warr jumps into the water as he and other sledders enjoy the snow falling in Big Cottonwood Canyon on Friday. (Scott G Winterton, Deseret News)
Estimated read time: 5-6 minutes
SALT LAKE CITY — Travel on Utah roads this weekend is expected to be extremely difficult due to multiple winter weather advisories and heavy snow. And travelers driving to the Rose Bowl are advised to leave before Sunday to avoid the worst day of travel.
Roads are already starting to get hazardous with some small car crashes occurring.
Utah Highway Patrol said one driver on State Route 92 near Sundance Mountain Resort lost control and slid off the road, ending up in the stream.
The male adult driver and a 6-year-old passenger were transported to the hospital with minor injuries and the road was closed until the car could be pulled out of the river and the roads could be plowed.
Utah Highway Patrol said the road should be reopened by around 9 pm
Rose Bowl-bound
KSL meteorologist Matthew Johnson said drivers heading to Pasadena, California, for the football game between the University of Utah and Penn State should see clear roads most of Saturday, but I-15 between Salt Lake City and Cedar City is expected to see snow most of the day on Sunday.
"(The) worst day to travel is Sunday. … If traveling to the Rose Bowl, get on the road before (then)," he said.
Utah Department of Transportation spokesman John Gleason agreed and is urging Utahns heading to Southern California and other destinations to plan ahead and leave early.
"If you're waiting until Sunday you are waiting too long. We're expecting some really challenging conditions all along I-15 throughout the state," Gleason said for those headed to the Rose Bowl.
Gleason said road crews are standing by to start clearing the road once the snow hits. Gleason reminded motorists to give snowplow drivers plenty of room to do their jobs.
"The crews are well rested and ready to tackle anything that comes our way," Gleason said. "Sunday into Monday is when we're really going to see a lot of plows out on the road."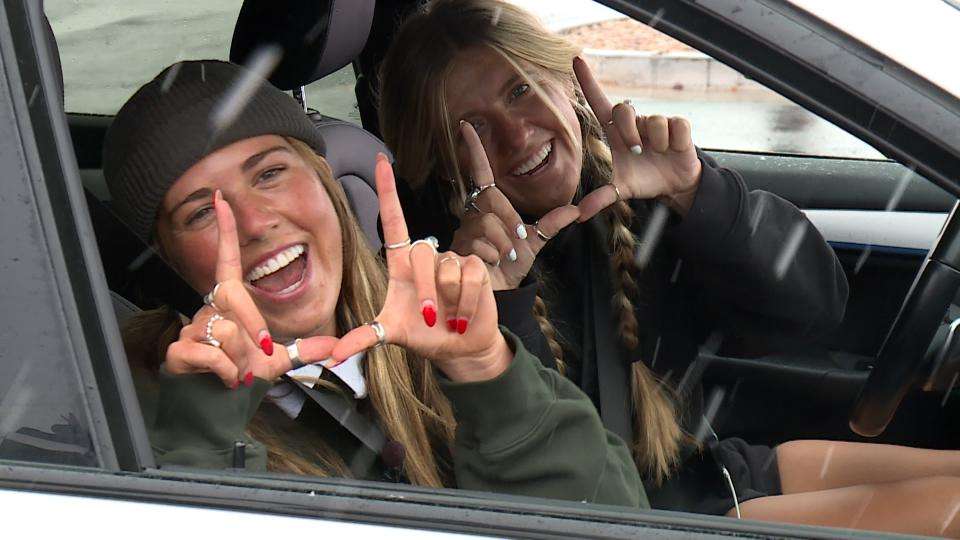 Plenty of Utah fans followed the advice to beat the storm and were seen driving southbound on I-15 on Friday.
"We're heading to the Rose Bowl and we're so excited about it," said Emmiekate Leishman from Salt Lake City.
Leishman and her family stopped at a gas station in Nephi on their way to California. The family's caravan planned on reaching Pasadena by 9 pm Friday.
"Go Utes!" Leishman said.
University of Utah fans were sharing the road with plenty of fellow sporting U. logos on sweatshirts, hats, window stickers and license plates.
"You're starting to see more and more cars as you drive by with their Utah logos, so you're starting to feel that vibe," said Mike Perkins from Sandy. "It should be a good time."
Perkins was traveling with his father, brother and two children. The group stopped in Fill more for snacks as they headed south.
A snowy finish to the year
Rain will continue in the valleys along the Wasatch Front on Friday and Saturday, but is expected to turn to snow on Sunday. The valleys could accumulate between 1 and 2 inches of snow by the time the storm passed Monday.
All Utah mountains are expected to have up to 3 feet of snow between Friday and Monday. The Wasatch Mountains could get between 2 and 5 feet of snow over the weekend, with high amounts found in Big Cottonwood Canyon and Little Cottonwood Canyon. A brief lull in snowfall will occur Saturday, but snow will pick up again by Sunday morning.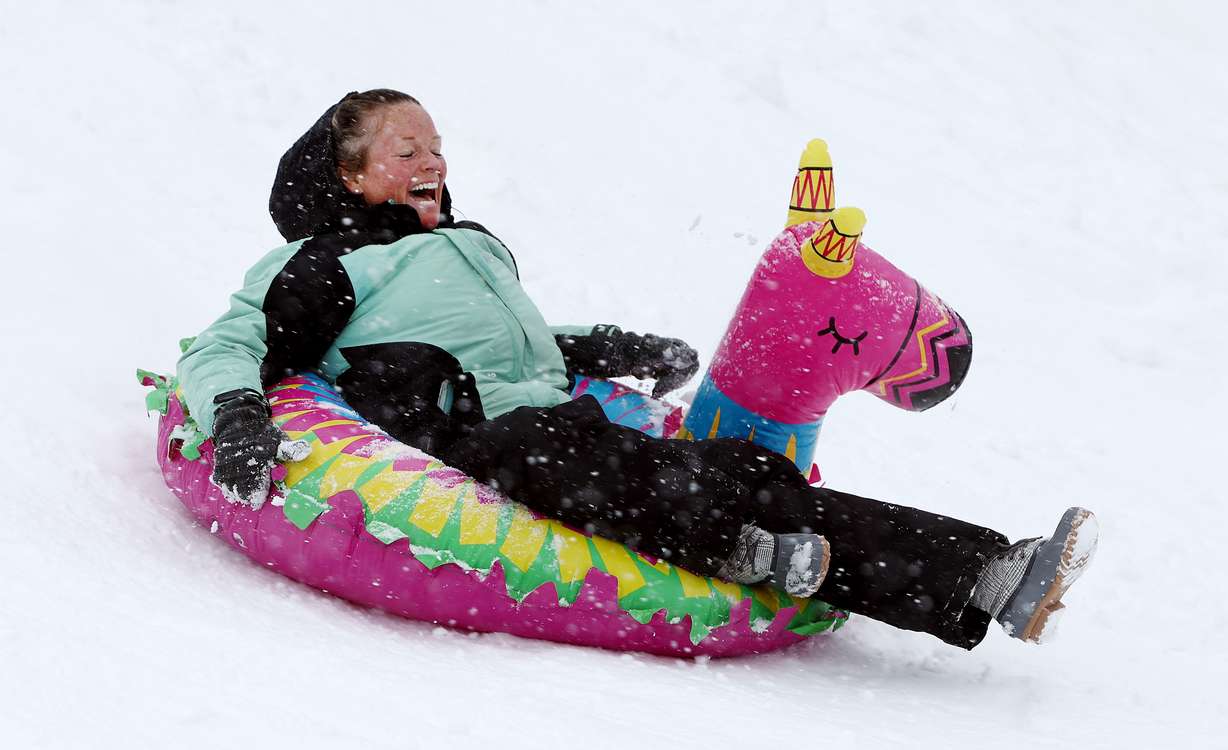 Heavy snow between 6 and 12 inches is projected for the Wasatch Back, which is under a winter weather advisory through Monday morning.
To get updated forecasts for your area, visit the KSL Weather page.
With so much snow expected, an avalanche watch is in effect in most Utah mountains through 6 am Saturday, with avalanche danger expected to be high.
"This storm is going to increase avalanche danger even more with it being a wet, heavy snow falling on an already weak layer up there," Johnson said.
Road Weather Alerts:

The first round of a prolonged winter storm will bring heavy mountain snow and some minor valley impacts to northern and central UT Friday through Saturday night.

For more info: https://t.co/4P1gO2c9Uo@UtahTrucking
#utwx#utsnowpic.twitter.com/AOnCsCA1FU

— UDOT Traffic (@UDOTTRAFFIC) December 29, 2022
The latest winter storm will add to a snowpack that is already well above average, Johnson said, and this storm could make this month one of the snowiest Decembers on record. Alta has already lengthened 137 inches this month, up from the average of 92 inches.
If the weekend goes as expected, total snow accumulation between 167 and 177 inches could make for the third-snowiest December on record, behind 244 inches in 1983 and 184 inches in 1981. Third place is currently held by 1996, which totaled 165 inches.
A winter weather advisory for Bear Lake and Bear River Valley is in effect and predicts 4-12 inches of snow by Monday morning.
A winter storm watch is set for Saturday afternoon to Sunday evening for the up to 30 inches of snow predicted to hit mountains in southern Utah and the Brian Head area.
The National Weather Service says travel will be "very difficult to impossible." Due to the warm nature of this storm system, a rain-snow mixture is expected.
Eastern Box Elder County and Cache Valley will likely encounter slippery, hazardous road conditions that might impact morning and evening commutes. The winter weather advisory for Friday says about 2-4 inches of snow are expected and the snow might transition to rain late Friday evening.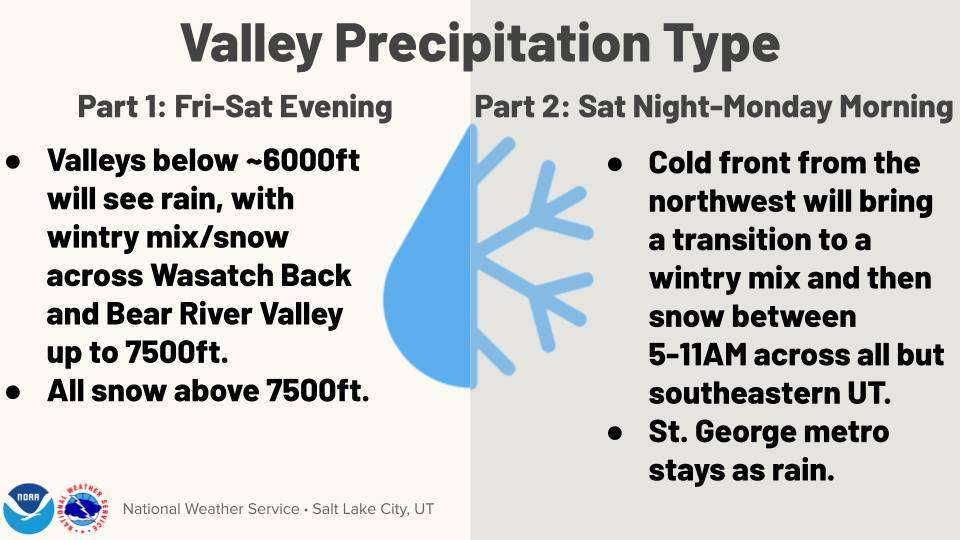 Commuters and people on the road are encouraged to slow down and use caution while traveling. Snowfall forecast is on the National Weather Service's page and road conditions can be found on the Utah Department of Transportation's website.
The National Weather Service says if you must travel, you should keep a flashlight, food and water in your vehicle in case of an emergency.
Contributing: Ladd Egan
×
Photos
Related stories
Most recent Utah weather stories
More stories you may be interested in