How do you picture wintertime at the Plitvice Lakes? The white blanket of snow turns your visit into a special experience as you walk by the blue-green lakes. The silence of nature will fill you with the extraordinary energy of the winter idyll that provides health and refreshment.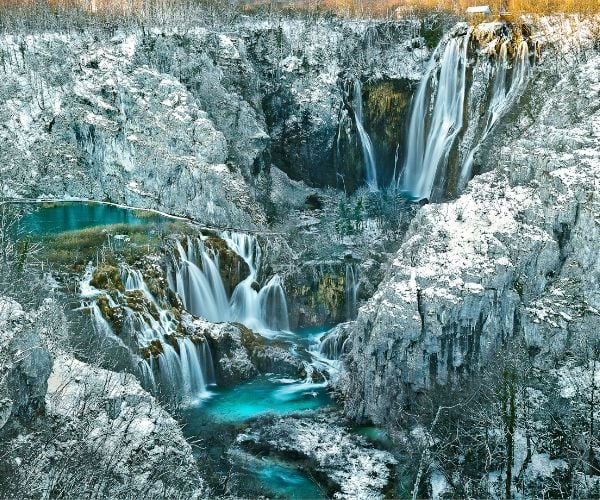 Winter idyll at the Plitvice Lakes
Moving makes us happier and relaxed and improves our psychophysical condition. Spending time in nature makes us calmer, frees our spirit, and reduces stress. Happiness cannot be measured, but scientists agree that we increase it by spending time in nature. Relaxation in nature will not be lacking at the Plitvice Lakes, as kilometers of trails offer precisely that. Countless waterfalls and the unreal color of the lakes seem to be right there for you. The sound of the waterfalls, green-blue lakes, frost everywhere – that is winter at the Plitvice Lakes. You should try counting our pine trees, catching a snowflake or enjoying a cup of tea in a warm place just a few steps away from the biggest waterfall in Croatia. This winter landscape hides many secrets, bears sleeping in their dens and ducks still playing in the lakes. While the nature of the Upper Lakes is resting in winter, take a boat across the largest Plitvice lake, Kozjak, and enjoy a walk under the Great Waterfall itself, the largest waterfall in Croatia. Although in winter we are generally drawn inside, into closed, heated spaces, we believe that you will enjoy the fresh air of pristine nature more. In winter, we hope, most of all, it snows with soft white flakes covering the ground like a blanket that gives nature a rest. We also hope it snows because of the sledding and skiing that is offered in Mukinje, not far from Entrance 2 to the National Park. Since the 1980s, ski and sledding equipment could be rented here for complete winter enjoyment.
Christmas spirit
For most, Christmas is the most beautiful time of the year, when we are all happy, joyful and content. A magical time when we believe in miracles and want to be surrounded by people who are dear to us. Perhaps there is nothing more magical than Christmas morning with a Christmas tree, exchanging gifts and fragrant hot chocolate. Heartwarming Christmas songs coming from the speakers tuck us into a fairy tale about a white snow blanket. Do you dream of waking up in one of the most beautiful national parks in the world and walking along chestnut trails accompanied by the sound of waterfalls?
Christmas is that special time of the year when family and its values are more appreciated and felt. During this time, we all want to be happier, more fulfilled and more content. We all look forward to that day, so in order to prolong those feelings, we have Advent and various events throughout December. Everyone loves the spirit of Christmas, its joy and richness. The most wonderful time of the year, as it is described, is even more beautiful here at the Plitvice Lakes.
Christmas festivities nearby
The time of Advent is always magical wherever you may be, and the well-proven holiday recipe consists of decorated cities and towns, the aroma of mulled wine and sweet fritters, and seasonal musical concerts and plays. If you are planning to stay several days in the Plitvice Lakes area, you can check the Advent events in the surrounding towns.
Rakovica, a municipality in the immediate vicinity, has also organized various Christmas events. For young and old, everyone will find something for themselves. You can enjoy musical performances, performances by elementary school children and groups of kindergarten children. The entertainment program will make many happy, and you can record unforgettable moments with Santa Claus in the pleasant atmosphere. In order to "bring" a touch of the atmosphere back with you, local producers who offer domestic products took care of it. You can do your Christmas shopping at the stands and make your loved ones happy when you return.
---
IMPORTANT NOTICE:
If you are reading this article anywhere other than on A Luxury Travel Blog, then the chances are that this content has been stolen without permission.
Please make a note of the web address above and contact A Luxury Travel Blog to advise them of this issue.
Thank you for your help in combatting content theft.
---
In addition to Rakovica, Korenica has also prepared an enticing program that will make your hearts happy. With many shows and screenings, mulled wine and fragrant snacks, no one will remain indifferent.
About thirty kilometers from the Park are the towns of Slunj and Rastoke, which some also affectionately call "Male Plitvice" ("Little Plitvice"). This year, you can experience the Christmas atmosphere on the new bridges, decorated with thousands of lights. When taking a stroll near the waterfalls, you will be able to warm yourself with mulled wine and other culinary delights.
In any case, whichever location you choose, spend this magical time of the year with your loved ones, warm yourself with mulled wine and tea and treat yourself with homemade products. Forget about worries and problems. In this most beautiful time of the year, spread love, joy, peace…
New Year's Eve in the Plitvice Lakes National Park
Have you ever wondered what the New Year's Eve celebration looks like in one of the most beautiful parks in the world? Do you want to spend your New Year's Eve in a traditional setting with the sounds of folk music or are you more into newer bands and happy notes? It has become a tradition at the Plitvice Lakes National Park to organize an event to see out the old year and bring in the new. Hotel Jezero has a rich gastronomic offer that includes special menus created just for the occasion. Surrounded by beautiful nature in the company of your loved ones, you can toast with champagne to an even more beautiful, happier and better New Year.
Lovers of traditional ambience and music can celebrate this special night at our Lička kuća. A pleasant, warm environment with musicians will certainly provide a special experience. With its gastronomic offer, based on ingredients of local origin, it authentically revives the rich tradition of the Lika region. On New Year's Eve, you also have the opportunity to enjoy a fairytale ride in a horse-drawn carriage. Whichever location you choose, fun is guaranteed. Celebrate New Year's Eve surrounded by magical nature with your loved ones and enjoy.
Visit the Advent locations
The Plitvice Lakes at Christmas time are just as magical as you imagine them to be. Is coming to see them at Christmas time worth it? Absolutely! This really is the most magical time of the year and the park takes on an even more special glow! This year, Advent takes place in the  winter garden of Hotel Jezero, where thousands of lights in full splendor cheer both old and young, where Mr. and Mrs. Santa Claus cannot wait to hear your wishes and where the entire winter garden smells of cinnamon, chocolate and cloves. Advent is also held in Bistro Slap at Entrance 1, in the immediate vicinity of the Great Waterfall.  Can you imagine the scene of snow crunching under your feet as you walk up  to the Great Waterfall overlook? There is something special about being wrapped in warm clothes and drinking a hot drink, while listening to the tallest waterfall in Croatia tell its idyllic Advent story.
Tastes and aromas of the Advent
Did you know that when we taste new food, our brain releases small doses of dopamine, the happiness hormone? The desire to travel, the need for change and for trying new things arises precisely because of this.
The aromas of sweet fritters and hot chocolate are a sign that the holidays are coming, and we associate the holiday atmosphere with the smell of freshly baked sweets that celebrate life and create pure pleasure. Hot drinks that warm our body and soul and lift our spirits are also an essential part of every Advent. After a walk around the lakes and well-done Christmas shopping, it is time to taste traditional hot chocolate or mulled wine with juicy Plitvice sweet fritters, without which we cannot even imagine Christmas. A seemingly simple but actually demanding sweet, it requires special preparation and a lot of love and experience. The smell of powdered sugar will make everyone happy, and the smell of cinnamon and cloves in mulled wine will spread laughter and happy atmosphere at a time when we want love and peace the most.
If you prepare adequately for the cold weather, you will have a lot of fun at the Plitvice Lakes during the holidays! Experience the magic of the Plitvice Lakes, try our delicacies and feel the Christmas spirit provided by 16 lakes and countless waterfalls and create enchanting memories at one of the most magical destinations in the world, the Plitvice Lakes.
Tomislav Kovačević is General Manager at Plitvice Lakes National Park. Plitvice Lakes National Park is the oldest and biggest national park in Croatia.
If you would like to be a guest blogger on A Luxury Travel Blog in order to raise your profile, please contact us.