South America is full of natural beauty, friendly people, gorgeous beaches, and awe-inspiring landmarks. For senior travelers, a vacation on our continent is an excellent way to stimulate the mind, connect with a wider community, and just have fun. Exploring new environments and meeting new people can help older adults stay both physically active and socially engaged. Whether the idea is to experience more of the world, spend time traveling with loved ones, or just take a break from the everyday routine, travel here can bring enormous rewards.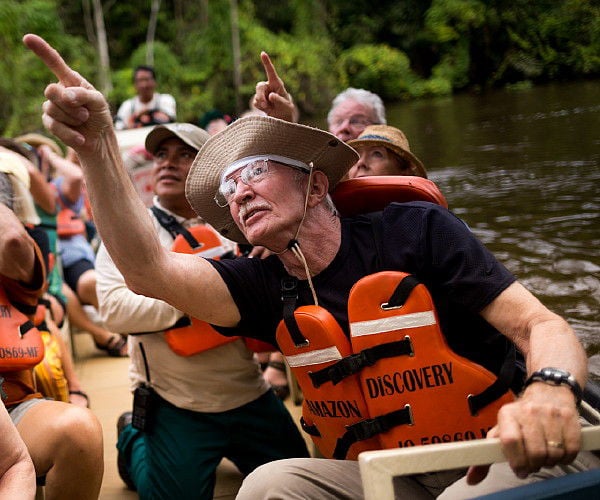 If you've always dreamed of experiencing Machu Picchu, admiring a striking sunset beneath the Cristo Redentor statue in Rio, or starring down a Giant Galapagos tortoise, now is a great time to start planning. For those over 60, a South American vacation shouldn't be seen as a daunting task. To take any worry out of such an idea, consider our top ten practical tips for traveling here as an older adult.
1. Select an experienced operator… and leave all the logistics to them
Organized tours are popular among older adults who want to let someone else take care of a vacation's host of details and logistics. A tour operator is a company that provides such full-service tours – organizing, preparing and actually coordinating and running a tour. More than simply selling tickets, the functions of a tour operator include booking your accommodations, organizing transportation and cruises, taking care of dining throughout your journey, providing tour guides, arranging for cultural and social activities, sightseeing and more. In short, they provide full "soup to nuts" service.
Moreover, as tour operators design their own tour packages, we can provide customized tours that fit the precise needs and desires of particular travelers. For many people, travel changes as you get older, and you start to appreciate things that would be missed by younger tourists. Being retired, semi-retired or an empty-nester also means you have a greater ability and more flexibility to choose where to go and how long for. You might enjoy spending longer in a place, learning more about the history and culture and taking the time to try good food and new activities. For these reasons, customized tours — rather than off-the-rack tours sold by travel agents — are usually preferred by more mature travelers.
Finally, tour operators typically provide specialized tour services. As their operations are focused on one distinct region or country (e.g., South America in general or Ecuador in particular), your tour operator will know almost everything about that place, and thereby have the capability of sharing with you the very best offered by the destinations you visit.
2. Don't overdo it… pace yourself instead
Plan to pace yourself and not pack too much into your itinerary; instead, schedule more time for transitions. In fact, it would be wise not to plan activities on the first day. There's no rush. Rest time is important for everyone, but especially for older travelers.
While there's nothing stopping older adventurers from engaging in more rigorous activities, it's worth doing some research and asking your tour operator to make sure you know what you're signing up for.
In this vein of "taking it easy," consider softer travel alternatives that best suit your skills and ability. Instead of hiking the Inca trail, consider taking the luxury Bingham train to Machu Picchu. You'll save your energy for the walking you'll be doing over the site's grounds.
Thinking of heading to Patagonia instead? No problem! Instead of hiking through Torres del Paine for a couple of weeks, why not opt for a leisurely day-long hike or take private transport to any of the magnificent viewpoints all over the park? In any case, try to limit any excessive walking and be prepared to take more breaks than you normally would.
And remember, many if not most South American cities are nestled high in the Andes, where some elevations can reach over 3,000m – that's almost two miles above sea level! As such elevations can cause altitude sickness, take it easy and try to avoid rapid changes in altitude if you're moving from high to low altitude; instead, try to spend a day in the middle to adjust. Consult your tour operator or do your research on the altitude of the places you're going and if you need to bring any special medications.
3. Don't forget your meds
It's best to take a full supply of any prescription medications and nonprescription medications like vitamins and supplements with you, as finding a well-stocked pharmacy can be difficult and time-consuming.
Also, medicines that are commonly prescribed or available over the counter in the United States might be unlicensed or considered controlled substances in other countries – think Brittney Griner. Before you travel, check with your tour operator and/or your destination's embassy and the embassies of countries where you have layovers to make sure your medicines are permitted. Keep your medicines in their original, containers, ensuring that they're clearly labeled with your full name, health care provider's name, generic and brand name, and exact dosage. Bring copies of all written prescriptions, including the generic names of medicines. Many countries allow a 30-day supply of certain medicines but also require the traveler to carry a prescription or a medical certificate from their health care provider.
Then too, you'll need to keep in mind that extreme temperatures can reduce the effectiveness of many medicines, so it's wise to find out how to safely store your medicine while traveling and check whether it needs refrigeration.
---
IMPORTANT NOTICE:
If you are reading this article anywhere other than on A Luxury Travel Blog, then the chances are that this content has been stolen without permission.
Please make a note of the web address above and contact A Luxury Travel Blog to advise them of this issue.
Thank you for your help in combatting content theft.
---
As an aside, make sure you are up-to-date on all of your routine vaccines. Routine vaccinations protect you from infectious diseases such as measles that can spread quickly in groups of unvaccinated people. Many diseases prevented by routine vaccination are not common in the United States but are still common in other countries. Some routine vaccines for older adults include pneumococcal pneumonia vaccine, a zoster or shingles vaccine, and an annual flu shot.
4. Pack smart, pack light
Packing your suitcase so it's lightweight and portable will make it easier for you to get around. A good travel bag with wheels makes the world of difference, though you should avoid overpacking to reduce the weight of your luggage. Some planes and boats have luggage weight limits and recommendations so make sure you are aware of these.
Avail yourself of the slew of clothes and accessories that help seniors travel more easily. These include compression socks, fanny packs, luggage tags, trekking poles, waterproof toiletry bags, and secure and easy-to-use passport holders or travel pouches to keep essential belongings safe and close by. These latter items can be worn around the neck, making them especially handy for those who can be forgetful. You'll also need to wear comfortable footwear all the time as many South American streets are cobbled, and where there are sidewalks, these can be uneven or broken – not to mention steep in some places.
Pack extra glasses, hearing aids and medications in an easily accessible place and in a different bag, and remember to pack medications in your carry-on luggage in case your baggage is lost or delayed. Also, any liquids carried on flights should be easily accessible for flight-security screening.
5. Ask about senior discounts
In most South American cultures, the elderly hold a position of deep respect. So don't be shy about asking for discounts. Vendors will often be happy to help you out, though you should always carry some form of ID that shows your date of birth. Also, though they might not be widely advertised, many major airlines and hotels offer senior discounts; so, you should mention the fact that you're a senior when you first make your travel reservations.
Note too that people over 60 qualify for reduced admission to theaters, museums, and other attractions, as well as discounted fares on public transportation in many South American cities. Similarly, those over 65 are typically given preferential treatment in lines (queues) and on buses.
6. Try the local cuisine, but watch what you eat
One of the highlights of any trip to South America has to be experiencing incredible new tastes and flavors. From traditional Andean dishes to modern culinary delights, and upscale restaurants to street food, dining brings South Americans together and is the beating heart of the colorful continent. South America offers one of the most diverse gastronomic landscapes in the world, but with so much deliciousness on offer, it can be tough to know where to begin!
In each nation, you can savor the country's culinary hotspots. In Peru, for example, you'll see why it's described as the "gourmet capital of Latin America," thanks to its up-and-coming gastronomic scene that boasts innovative dishes, freshly-sourced ingredients and the flair of Michelin-star chefs. Similarly, no visit to Argentina would be complete without experiencing steak sizzled on a "parrilla," which is an iron-grill barbecue ubiquitous across the country. Fill up on succulent lamb and beef paired with Malbec for a gorgeously authentic Argentinian meal. And while here in Ecuador, be sure to try the mouth-watering arroz con pollo, a classic dish of browned chicken, rice, onions and tomatoes bursting with flavor. All these dishes, and more, clamor to be tasted, savored and shared on a culinary tour in South America; the question is, where to first?
However, you'll want to be wary of street food …but don't rule it out completely. It would be a shame to miss out on amazing travel experiences due to being ill. And while. Actually, you might find some of the best treats prepared and cooked on the street. Empanadas from some no-name stand along the road in Colombia might turn out to be much better than an empanada in supposedly the best shop in Chile. If you do decide to eat on the street, always follow these two simple rules: check to see if the place looks considerably clean and if several local people are eating there.
Finally, to lessen the chances of altitude sickness in the Andes, drink plenty of water and stay hydrated. For travelers of all ages, but especially seniors, drinking enough bottled water is a simple but effective trick for staying healthy anywhere across the continent.
7. Get appropriate travel insurance… because you never know
You can never know what's going to happen – you can lose your luggage on a flight, twist an ankle while hiking, or simply get sick. Even though we all hope these scenarios won't become a reality, it's always better to pay a bit more for your trip and be safe than sorry.
Most U.S. health insurance plans, including Medicare, will not cover elderly travelers outside of the U.S., which means that receiving proper care can be expensive. So, you should look for a policy that covers you in case of a medical emergency abroad. You should also consider insurance if your trip involves high prepaid non-refundable costs, such as a reserved cruise or bus tour. Such travel insurance may allow you to get your money back if you get ill and can't travel, or if a hurricane disrupts your cruise plans. According to the AARP, travel insurance is best purchased from a broker rather than directly from a tour operator or cruise line. You can research costs and coverage at sites like World Nomads, which has been designed by travelers for travelers to cover your trip essentials. Travel smarter and safer! It's worth the peace of mind.
8. Think about security, but not to the point of paranoia
Hollywood movies and cable news reports tend to focus on the most sensational tragedies around the planet, which many people interpret as accurate depictions of entire countries.
The reality is, however, staying safe overseas is not much different from staying safe at home. You should use common sense, carry as few valuables as possible, and always be aware of your surroundings. Though you should be fine venturing around major cities, it's always good practice to be vigilant of your belongings and your environment.
Remember, a "silver fox" will always seem easy prey to an opportune pickpocket, so you'll need to be alert when sightseeing, especially in larger cities and heavily touristy spots. Statistically, senior travelers do tend to suffer more petty theft than younger travelers as thieves probably see them as offering lower risks and higher rewards. Don't let it worry you too much though, your risk is minimal but it's just wise to be alert when traveling.
Your greater concern might be South American traffic. When crossing the road, never expect a driver to give you priority, even when the light turns red. Always wait on the pavement until all the cars have stopped, and only then start crossing the street. As for marked crosswalks (zebra crossings), you can be almost assured that cars won't stop for you.
9. Consider a cruise, and let the highlights come to you
Want a relaxing way to see the world and meet new people? Check out cruises. Abundant adventure cruise destinations in South America are the perfect option for those who prefer to have the highlights come to them.
Cruises are virtually all-inclusive vacations that allow seniors to unpack only once, see many different ports, and take advantage of unlimited dining and entertainment. Plus, many shore excursions are organized with the mobility-challenged in mind. And many ships have wheelchair-accessible public areas and staterooms as well as onboard doctors and medical facilities.
In destinations like Ecuador's Galapagos Islands or Chile's fjords, yacht cruises are really the only way to go, while in areas like the Amazon rainforest, a luxury riverboat cruise is simply a wonderful (and infinitely more comfortable) alternative to a sweaty land-based adventure.
The amazing aspect of South America's best cruises is that they can be the epitome of adventure travel as these offer daily excursions that include hiking, kayaking and more, with activities aimed mainly at getting explorers to some of the continent's remotest corners.
While onboard your yacht, senior singles and couples can enjoy a wide range of activities and connect with other mature travelers. Many ships offer get-togethers and social activities like trivia games and dance classes that allow you to mingle with people who share your interests.
Our conclusion: Keep exploring!
Senior travel can be immensely rewarding. Some of the best South American itineraries and the most famous sites of Peru, Brazil, Ecuador's Galapagos islands, and Argentina are undeniable Latin America highlights from which older travelers can confidently choose.
According to your age, interests and abilities, a tailor-made South American adventure awaits, one that's perfect just for you. So, keep this list of tips in mind …and start planning your next adventure!
Alfonso Tandazo is President and CEO at Surtrek Tour Operator. Surtrek Tour Operator is a well-established firm, specializing in custom-designed luxury tours in Ecuador, the Galapagos and throughout the rest of South America.
If you would like to be a guest blogger on A Luxury Travel Blog in order to raise your profile, please contact us.