Christmas is not only a special season to spend with family and friends, but also a wonderful time to treat yourself and perhaps even indulge in some of your favorite festive treats. And to make it truly memorable this year, we've compiled a list of some mouth-watering gourmet treats – both savory and sweet. Read on to discover some of the ways you could be treating everyone in your household this Christmas-time.
Feast of the Seven Fishes from Wulf's Fish
Feast of the Seven Fishes is a popular tradition among Italian Americans on Christmas Eve. This custom was inspired by the Southern Italian celebration called The Vigil (La Vigilia). The meal typically consists of seven seafood courses to break a day of fasting on Christmas Eve.
You can have your own celebration with Wulf's new Feast of the Seven Fishes Set. This set comes with seven different seafood items plus a free jar of bowfin caviar to add extra holiday flair to an already decadent meal. Ranging from ready-to-eat items (boquerones) to decadent treats (split half lobsters), you can create this classic holiday meal with much greater ease than seven courses implies.
Holiday Showstopper (12-pack) from Colossal Cookie Co.
With a clientele of high-achievers who expect the best, Colossal Cookie Co. needs to always be on their A game. So you can bet your bottom dollar this pack has the looks as well as the taste. With this set, the entire Christmas lineup of flavours are available to gift your VIPs this magical season.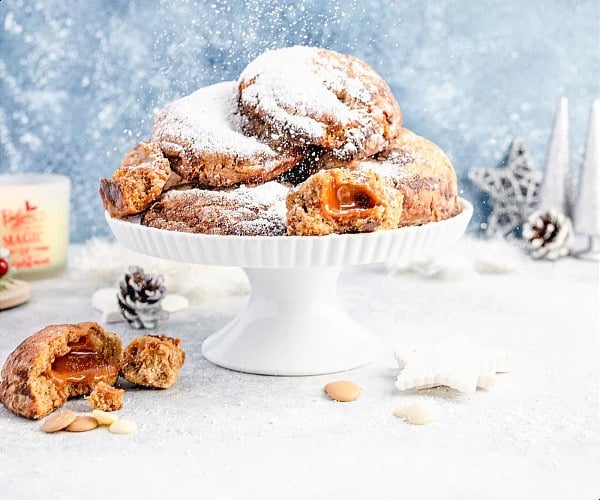 Dressed in their iconic Showstopper gift box, It's the elevated holiday tradition everyone's drooling over. This 12-pack includes 3 x Santa's Stash, 3 x Winter's Fairytale, 3 x Only SnowDay and 3 x Favourite Things cookies.
Lobster Corn Chowder from Hancock Gourmet Lobster Co.
Hancock Gourmet Lobster Co. ships its legendary lobster corn chowder nationwide on Goldbelly! They say chicken soup is good for the soul, but we say Lobster Corn Chowder is better! This rich and creamy award-winner is sure to hit the spot on a chilly evening. Chock full of chunks of Maine lobster and garden-grown sweet corn kernels, Hancock Gourmet Lobster Co.'s slow-simmered lobster stock and fresh local cream form a thick, silky, and satisfying chowder. This chowder is finished off with the perfect blend of subtle spices. Warm it up and serve with your favorite crusty bread for a simple, hearty meal. Hancock Gourmet Lobster Co. lobster corn chowder is gluten free.
Woodford Reserve Bourbon Balls from A Taste of Kentucky
Bourbon Chocolates are unique to Kentucky and are as much a part of the Bluegrass tradition and hospitality as the venerable mint julep. These decadent whiskey confections made their appearance in the early 1900s and If you've ever had a chance to visit the Woodford Reserve Distillery down in Versailles, Kentucky, then you're probably already a fan of this post-tour Woodford Reserve staple.
Available from A Taste of Kentucky and made by the good folks at Ruth Hunt Candies over in Mt. Sterling, Kentucky, this delightfully rich bourbon candy is made with premium Woodford Reserve Bourbon in a creme center dipped in delicious dark chocolate finished with a half pecan on top.
KellyBronze Turkeys from Goldbelly
KellyBronze turkeys are true heritage-breed turkeys, direct descendants of the very first turkeys brought to England in the 1500s. The breed had nearly gone extinct by the 1970s, when Derek and Mollie Kelly began breeding them free-range in the U.K., and they're still bred by the Kelly family today, with loyal fans including Gordon Ramsay, Nigella Lawson, and Martha Stewart, this might just be the best-tasting turkey on earth.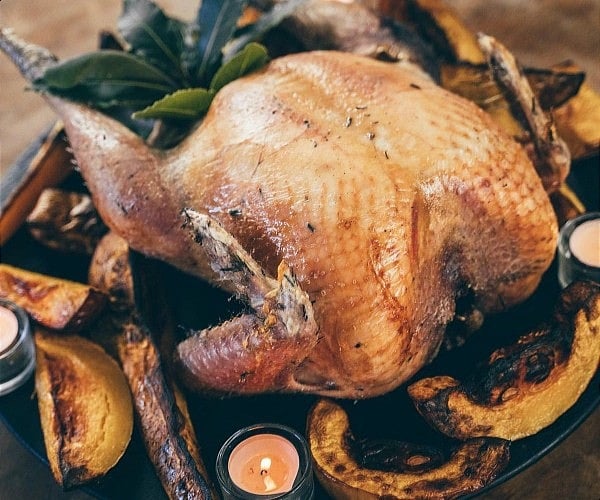 Available from GoldBelly, his purebred turkey is a unique breed grown wild in the foothills of Virginia's Blue Ridge Mountains, fed on a fresh mash of corn and soy milled on the farm, and grown to twice the age of standard turkeys, resulting in big flavor and extra marbling. They're hand-plucked and dry-aged for up to two weeks in order to develop even more flavor. The turkey is then beautifully packaged with full cooking instructions and shipped directly to your holiday table. Put simply: it's what turkey is supposed to taste like.
Holiday Pie Trio from Tootie Pie Co.
Good things come in threes. Be the star of the night when you bring nutty Pecan Pie, sweet Apple Crumb Pie, and Spiced Pumpkin Pie to your holiday parties! Available with either Fun Size or Texas Size. Tootie Pie Co's Fun Size (8″) pie serves 6-8 and the Texas Size (11″) pie serves 8-10 (depending on how hungry y'all are!) .
California Reserve Filet Mignon Giftbox from Flannery Beef
Unquestionably the most tender steak you can serve up. Absolutely fork tender and devoid of most excess fat; this steak could be called the sashimi cut of beef. Each Flannery Beef gift box is sent with four filets packaged in a black giftbox.
Tower of Treats® Ultimate Holiday Gift from Harry & David
Share a splendid bounty of irresistible sweet and savory gourmet treats. This holiday tower includes a wide assortment of goodies starting with juicy pears, Moose Munch® Premium Popcorn, and signature chocolate truffles. There is something for every palate, from bakery treats like baklava and raspberry galettes to savory favorites including pepper & onion relish, Gouda cheese, and Milano Italia dry salami. The tower arrives topped with a hand-tied bow.
Very Merry Bavarian Soft Pretzel Holiday Gift Pack from Milwaukee Pretzel Company
There is something for every soft pretzel lover in this holiday gift pack! Included are all of Milwaukee Pretzel Copmany's favorite pretzels and dips! Plus, each wreath is made of three braided pretzel strands and complete with a pretzel bow for a festive touch. Pretzels and dips will serve 10+ people.
Each order comes with: 1 x 1 LB pretzel wreath (approx. 11x11in ea); 10 x3oz Bavarian soft pretzel twists; 50 x Bavarian soft pretzel bites; 4 x nacho cheese cups; 1 x mustard of your choice; and Pretzel salt. All Milwaukee Pretzel Company pretzels are made without preservatives and baked fresh daily.
Rudolph Layer Cake from We Take The Cake
The most famous reindeer of all! This adorable We Take The Cake holiday dessert is a 6"-4 layer prize-winning chocolate cake and is filled and frosted with a rich chocolate cream cheese. Treat yourself, your family, and your friends to this unique cake and wait for the WOW! You'll go down in history!
Lobster Mac & Cheese Poppers from The Cajun Turkey Company
A decadent appetizer for any party, The Cajun Turkey Company's lobster mac and cheese poppers combine fresh lobster, triple cream brie and ditalini macaroni. These bites are then dredged in panko bread crumbs for a delicious crunch. Each order comes with ten poppers.
Gingerbread brittle from Vosges Haut-Chocolat
Gingerbread parfums are a sign that the holidays have arrived. Vosges Haut-Chocolat have married the alluring, ancient ginger spice with caramelized black Kokuto sugar, grass-fed butter, Saigon cinnamon and nutmeg cooked in copper kettles and made into a crispy, crunchy, and buttery brittle tossed in speculoos cookies.
Taste of the World Holiday Set of 24 from Gustus Vitae
Travel the world from your kitchen with this truly versatile collection of authentic flavors from Gustus Vitae that crisscross the globe. It kicks off with the zesty, bold, and undeniably vibrant flavors of the Taste of Thailand Seasoning – livening up proteins, adding unexpected and flavorful heat to salads, and making roasted veggies or potatoes really pop.
Take a flight over to Morocco, and savor the deepest flavors of the tajine – smoky, piquant, and little spicy, it's the perfect way to add international flavor and unexpectedly delicious flavors to whatever you're whipping up. The Taste of Jamaica is a homage to the flavors of Jamaica – bright flavors, a little heat and minced herbs to support give this classic flavor unexpected versatility – not just on shrimp and pan roasted fish, but how about spinach the whole family will actually enjoy, or even a way upgraded mashed cauliflower? And no world trip would be complete with a stopover in Greece – the authentic Taste of Greece isn't just for dips – make veggies sing, transform boring chicken breasts into something to look forward to, and give 'come-back' power to white fish from tilapia to cod. This set is truly a use with everything to make your own take on world cuisine.
Santa's Workshop Sampler from Seven Sisters Scones
Feed those hungry elves! This box – filled with sconies, bars and more – is great for someone who wants a little bit of everything. You will get 12 assorted sconies, 2 brownies, 2 salted caramel bars, 2 pecan squares, 2 7-layer bars, 9 oz jar of Georgia Jams, 6 oz clotted cream, 3 oz Savannah Bee Company honey and 1 oz lemon curd. It's shipped in Seven Sisters Scones' signature red mailer box, with each item individually packaged and labeled for freshness.
The Ultimate Cheese Board Collection from Murray's
Want to create the perfect party spread with the Murray's experts' top picks for meats, cheeses and more? Now you can! They's packed up all the flavors their cheese-loving hearts crave, from an extra-aged Italian prosciutto to tart cherry confit to cheeses galore, and a whole lot more. This collection is the ultimate cheese board on the go, perfect for crafting a delicious snackable platter in just minutes.
The Ultimate Cheese Board Collection comes in Murray's Signature Gift Box and includes: Hornbacher; Mountain Gorgonzola; Jasper Hill Farm Harbison; Saint-Maure; Fermin Iberico Chorizo Sliced; Murray's Sopressata Salami; Dehesa Cordobesa Paleta Iberico De Bellota; Trois Petits Cochons Cornichons; Raincoast Crisps Fig & Olive Crisps; Rustic Bakery Olive Oil & Sel Gris Flatbread; ChocoHigos®; Chocolate Covered Figs; Murray's Marcona Almonds; and B&R Farms Blenheim Apricots – in total, 2 pounds of cheese and 10.5 ounces of meat. It will serve 14-16 cheese board lovers.
Gingerbread House Kit from Erin McKenna's Bakery
Your interactive holiday activity has arrived! Erin McKenna's Bakery has put together a one-of-a-kind DIY gingerbread house-making kit. The best part: it's vegan & gluten-free! The kit includes all of the gingerbread house pieces, along with all the icing, marshmallows, gumdrops, and candies you need to decorate them, just the way you like. It's one sweet culinary experience for the whole family to get hands-on in the kitchen, and it's coming right to the comfort of your own home!
Deluxe Ham Dinner from Hickory Farms
The perfect holiday feast is easy to prepare and delicious, just like this Deluxe Holiday Ham Dinner from Hickory Farms. The star of this gourmet meal is an award-winning HoneyGold Spiral Sliced Ham. With rich Three-Cheese Scalloped Potatoes and savory Parmesan Creamed Spinach, this meal comes together in no time. And no feast is complete without dessert, like Hickory Farms' crowd-pleasing Blueberry Peach Crisp. Send this meal as a thoughtful way to share holiday cheer, or enjoy around your own table with friends and family this season. Ham serves 14-18, sides each serve 6, crisp serves 8. Ships frozen.
---
IMPORTANT NOTICE:
If you are reading this article anywhere other than on A Luxury Travel Blog, then the chances are that this content has been stolen without permission.
Please make a note of the web address above and contact A Luxury Travel Blog to advise them of this issue.
Thank you for your help in combatting content theft.
---
New England Cranberry Relish from Stonewall Kitchen
The essence of New England shines through in this Stonewall Kitchen New England Cranberry Relish. The abundantly sweet and tart cranberry is combined with zesty orange for a spread unlike any you may have tasted before. You will "relish" its taste on baked chicken or in a sandwich.
Borsari Traditional Classic Panettone from European Deli
Instantly recognizable for its tall, domed shape, panettone is more a bread than a cake, its sweet dough studded with candied fruits and raisins. Popular worldwide, it is usually pinpointed for Christmas and New Year's celebrations. This Borsari Traditional Classic Panettone is a traditional Panettone cake with candied fruits and sultanas, presented in a special Christmas Gift Tin.
Bangin' BBQ Sauce Suitcase from Thoughtfully
Unpack big, bold flavors with this 15-piece BBQ Sauce Suitcase from Smokehouse by Thoughtfully. From foodie inspired creations like Whiskey Grizzly BBQ Sauce and Tequila Pineapple to classic flavors like Kansas City and Original Sweet and Spicy BBQ Sauce, this BBQ sauce collection delivers an array of robust flavors to level up your favorite protein. From Buffalo wings and sliders to pork chops and BBQ ribs, Smokehouse BBQ sauces make everything taste better—in the kitchen or on the grill.
With 15 distinctly different bottles to choose from, this suitcase of sauces carries the full spectrum of flavors including: Mango BBQ Sauce, St. Louis BBQ Sauce, Flaming Bacon BBQ Sauce, Honey BBQ Sauce, Sriracha BBQ Sauce, Sweet and Spicy BBQ Sauce, Apple Whiskey BBQ Sauce, Garlic BBQ Sauce, Kansas City BBQ Sauce, Whiskey Grizzly BBQ Sauce, Tequila Pineapple BBQ Sauce, Honey Chipotle BBQ Sauce, Smoky Bourbon BBQ Sauce, Chipotle BBQ Sauce, and the ever-popular Beer BBQ Sauce. Vegan, vegetarian, nut free and dairy free, these gourmet BBQ sauces come in 3 fl oz size bottles so you can explore a vast profile of flavors and flavor combinations. Delicious as a dip, drizzle, sauce or marinade.
If you represent a product that you'd like to see feature in a future article like this one, please click here to subscribe to the retailer channel of A Luxury Travel Blog's mailing list.