With such an array of wonderful drinks available at Christmas-time, it's never been easier to get into the holiday spirit (no pun intended). What's more, there are lots of both alcoholic and non-alcoholic options available. Whatever your drink of choice may be, here are some ideas to make the most of the festive season.
For our other Christmas gift guides, please visit the following links:
20 luxury travel gifts for him this Christmas (2022) – US & Canada edition
20 luxury travel gifts for her this Christmas (2022) – US & Canada edition
20 luxury food treats to enjoy this Christmas (2022) – US & Canada edition
20 luxury travel gifts for him this Christmas (2022) – UK & Europe edition
20 luxury travel gifts for her this Christmas (2022) – UK & Europe edition
20 luxury food treats to enjoy this Christmas (2022) – UK & Europe edition
20 luxury drinks to enjoy this Christmas (2022) – UK & Europe edition
Thank you, and happy shopping!
Travel size cocktails from The Cocktail Box Co.
Ideal for travel or enjoyment around the campfire, these portable handcrafted cocktail kits from The Cocktail Box Co. contain the premium ingredients you need to mix three servings of a classic drink. Now you can make a premium cocktail anywhere, anytime with a portable cocktail kit that allows you to create the perfect cocktail without the need for a bartender.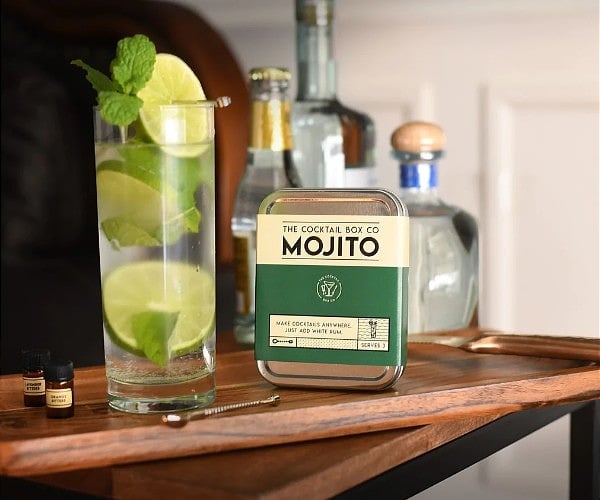 Krug Clos d'Ambonnay Blanc de Noirs Brut 2002 from Primo Liquors
This exclusive Champagne is available from Primo Liquors. It is beautifully fragrant with toast, ground coffee and saffron notes on the nose, accenting the palate's concentrated range of baked black cherry, quince paste, lime blossom and crushed hazelnut flavors. Vivid, sculpted acidity and depth of flavor lend tension and muscle to this powerful Champagne while the finely detailed mousse and seamless integration provide an overall sense of finesse and harmony.
Christmas Coffee from Door Country
This one is truly a Christmas tradition! Door Country's most popular holiday coffee blends the wonderful flavors of the season in this unique (and secret!) recipe. What they can tell you is there are hints of cinnamon, nutmeg and more as you relax and enjoy the holiday season.
Napa Valley Winemaker Selection from Silver Oak
Napa Valley is widely known for growing outstanding Cabernet Sauvignon, and this Winemaker Selection shows off why it has earned that reputation. This selection includes one 750ml bottle each of Silver Oak's 2015, 2016 and 2017 Napa Valley Cabernets, all safely encased in a custom gift box.
The Kentucky 74 from Spiritless is a beautifully distilled non-alcoholic spirit for bourbon cocktails. Kentucky 74 is crafted using a proprietary reverse distillation process. It delivers a high-quality, smooth finish, underpinned by familiar notes of caramel, vanilla, and oak. Kentucky 74 was named Best Non-Alcoholic Spirit and won a gold medal in the second annual L.A. Spirits Awards.
Wassail Gift Set from Oliver Pluff & Co.
Simmer down with a warm, spicy cider wassail, or enjoy a rich mulled wine wassail with spice blends from Middle English times. This gift set contains two kits to brew 3 gallons each, both complete with spice bags for brewing. Hand blended and packaged by Oliver Pluff & Co. in Charleston, South Carolina.
CA Brut Sparkling Wine Silver Shimmer Etched Edition from ONEHOPE
Are you dreaming of a wine Christmas? A wonderful bottle for everything from hostess gifts to cookie exchanges, this bubbly ONEHOPE Sparkling Brut is light in color with a wildly tropical nose of banana, pineapple, and freshly baked brioche. Crisp green apple, lime zest, and notes of white pear abound on the palate, all cleansed by refreshing, crisp acidity. Cheers and happy holidays!
This year, let the gift be in the giving with ONEHOPE. Every purchase of ONEHOPE Wine gives 10% back to your cause of choice and helps make a lasting impact in the world.
Christmas red wine and white duo from Gourmet Gift Baskets
What's the best way to get into the Christmas spirit this holiday? This Christmas Red Wine and White Wine Duo, beautifully packaged in a signature dark-stained gift crate, is perfect for anyone who enjoys sophisticated wine tasting. This Christmas gift is complete with two bottles of wine paired with cheese, crackers, and Gourmet Gift Baskets' very own black truffle popcorn! This wine gift delivery is the perfect gift for anyone from a casual wine drinker to an oenophile!
St. George Terroir Gin from St. George Spirits
Inspired by hiking the trails on California's Mt. Tam, St. George Spirits created St. George Terroir Gin as an ode to the wild beauty of the Golden State. Made from a host of evocative botanicals, it's an olfactory snapshot of the lush landscape surrounding the Bay Area.
This invigorating elixir from Three Spirit is the perfect party pick-me-up. Enjoy euphoric feels from guayusa, guava leaf and schisandra and big flavors from vibrant berries, bright aromatics, and heat.
Christmas Ale from Great Lakes Brewing Co.
Since 1992 Great Lakes Brewing Co. has toasted the festive season with Christmas Ale, and their brewpub's annual First Pour party is one of their merriest traditions. The unofficial holiday kickoff packs this historic brewpub with warmth, joy, and plenty of Christmas Ale pints. So many, in fact, that their bartenders pour a pint of Christmas Ale every five seconds all day long!
Great Lakes Brewing Co. is an environmentally and socially conscious craft brewery from Cleveland, Ohio. Visit their historic brewpub and see for yourself.
Classic Hot Chocolate from Williams Sonoma
Inspired by the velvety hot chocolate served at the renowned Angelina café in Paris, Williams Sonoma's hot chocolate is produced from shavings of premium chocolate rather than cocoa powder for a rich, intensely chocolaty flavor, smooth texture and exquisite aroma. For the silkiest sip, they chose a couverture bittersweet chocolate from Guittard that melts quickly and consistently in hot milk. The result is a world-class beverage with a perfectly balanced chocolate flavor.
Eggnog Flavored Coffee from Bones Coffee
Get ready to have the Hap-hap-happiest Christmas ever! Bones Coffee's eggnog flavored coffee is a smooth, medium-roast with a sweet, savory finish that will be the perfect gift for your tastebuds. When Santa slides down the chimney this Christmas, he's going to see the jolliest bunch of coffee drinkers this side of the North Pole!
Seasonal Hot Chocolate Mix Trio from Dandelion Chocolate
This holiday season, Dandelion Chocolate have created a gift-boxed trio of flavorful hot chocolate mixes to whisk up at home with fresh milk, cream, or dairy alternative. Each vegan, single-origin-chocolate mix is contained in a sleek, reusable glass vial by industrial designer (and Dandelion friend) Remy Labesque. A rich, fudgy 70% Camino Verde, Ecuador chocolate forms the base for all three mixes.
Classic Hot Chocolate is creamy, subtly sweet, and deeply chocolatey. Dandelion's new Gingerbread Hot Chocolate, crafted with a blend of festive spices, tastes like a holiday celebration in a mug. And their House Mocha Mix, which melds Dandelion chocolate with organic coffee from Ventura, California-based Café Altura, yields a smooth, café-style mocha right at home.
CV Luxury Wine Pack from Broken Earth Winery
The brand CV represents four decades of wine-growing excellence from Broken Earth Winery's estate, Continental Vineyards. CV wine is highly allocated and only produced in exceptional vintage years. This pack is sure to be a very special gift that won't disappoint anyone that loves amazing Cabernets! The package contains the following a 2018 CV Reserve Cabernet Sauvignon, a 2019 CV Reserve Cabernet Franc and a CV corkscrew.
Black Spiced Rum from The Kraken
Forged from the finest and rarest Caribbean spices, Kraken Black Spiced Rum is rich, complex and bold. From the first taste to the last, experience the incredibly smooth and silky texture that lingers long on your palate. This signature spiced rum is laced with notes of island spices and vanilla.
---
IMPORTANT NOTICE:
If you are reading this article anywhere other than on A Luxury Travel Blog, then the chances are that this content has been stolen without permission.
Please make a note of the web address above and contact A Luxury Travel Blog to advise them of this issue.
Thank you for your help in combatting content theft.
---
Cranberry Cosmo from Mingle Mocktails
A bubbly blend of crisp cranberry, zesty lime and a splash of natural orange juice. Made with clean ingredients, naturally sweetened with pure cane sugar & fruit juices and low in calories. Your favorite crafted cocktail, minus the booze, from Mingle Mocktails.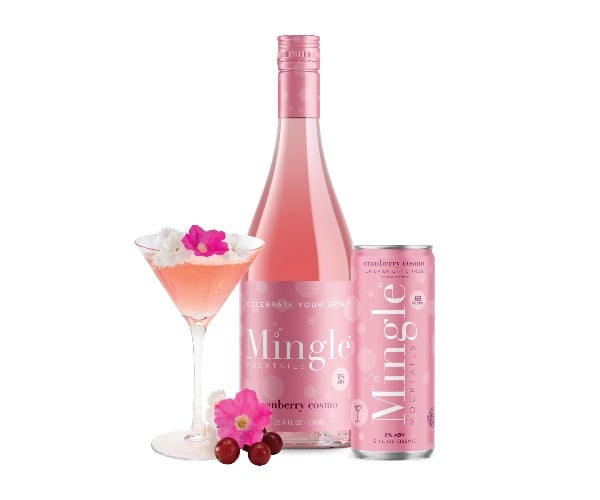 Double Eagle Very Rare 20 Year Old Kentucky Sraight Bourbon Whiskey from Whiskey Caviar
Available from Whiskey Caviar and twice the age of the 10-year-old Eagle Rare, the name of this expression is a reference to both its age and the two eagle figurines ― one in the form of a stopper, the second within the luxurious bottle. Only 299 bottles were produced.
Now you can try all of Wilderton's botanical expressions – Lustre, Bittersweet Apartivo and Earthen – with their limited edition 200ml sample pack. Whether you're looking to taste before stocking up on full size bottles or giving these away at stocking stuffers, Wilderton's delicious botanical expressions are the perfect way to celebrate the holiday season.
Ultimate Holiday Margarita Kit from Twisted Alchemy
Elevate holiday spirits with this Ultimate Holiday Margarita Kit from Twisted Alchemy. It is perfect for hosting a holiday party, gifting a special someone or impressing the relatives with the best margaritas on the market. Every kit comes with three bottles of cold-pressed juices, and a high-quality professional grade metal Shaker and Bar Jigger for easy margarita making. The kit includes all 3 hand-crafted rimmers including habanero salt, hibiscus lime salt, gold sugar and dried citrus wheels. Each kit makes about 30 fresh-juice margaritas.
If you represent a product that you'd like to see feature in a future article like this one, please click here to subscribe to the retailer channel of A Luxury Travel Blog's mailing list.