Take your tastebuds on an adventure while on safari in Kenya.
When travelling, food becomes more than just sustenance. It's an experience to add to your memories. Meals are an integral part of celebrations, holidays, and family-gatherings – and a safari in Kenya is no different. There are few better ways to connect with your loved ones, as well as make new connections and friends, than by sharing a meal. This is why we believe that every good safari should be accompanied by equally good food.
The wild and intangible spirit of Kenya never fails to captivate the hearts of travellers. Renowned for being one of best destinations in Africa for a safari, Kenya not only offers a wealth of wildlife and wilderness to enjoy but is also a place where magical and memorable dining experiences can be found on the menu.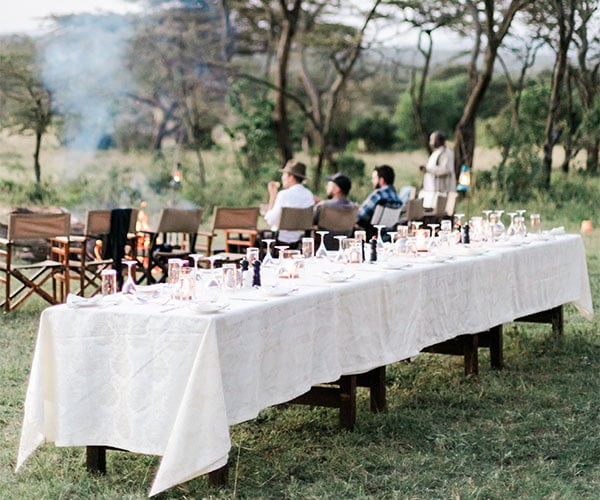 Many of the top safari lodges have elevated their dining experiences to take guests on a culinary journey where one can savour Kenya's rich and flavourful culinary diversity, interpreted with fresh, modern twists. This is no easy feat considering the remote locations that many of these establishments are located in. For the most authentic dining affair, look for lodges that source their produce ethically and supports regional farmers and artisans.
From traditional dishes to five-star cuisine, savour the tastes of Kenya while surrounded by the wild beauty of East-Africa with these culinary safari delights:
Bountiful bush breakfast
Breakfast in the bush should be on every foodie traveller's bucket list. Eating al fresco against the picturesque backdrop of the Masai Mara, makes for one of those surreal pinch-me moments that won't soon be forgotten. Following an early wake-up call, you are driven to your bush breakfast that has already been set up in a scenic spot where you can witness the sun rise and relish the enchanted hours of the early morning with a cup of freshly brewed coffee in hand.
A selection of fresh and seasonal continental breakfast foods will keep you busy while the chef prepares a warm buffet breakfast right in front of you. Witnessing this spectacular feat of remote bush cooking is an experience in itself. The chefs and their team make use resourceful and creative methods to craft wholesome restaurant-quality meals in the middle of vast and secluded areas of wilderness.
Some of the local Kenyan delicacies that could be found on the menu include Mandazi, a deep-fried dough that is similar to donuts but may taste different depending on the ingredients used. Mahamri, which is like Mandazi, is another breakfast staple, except it is hollow and is usually used to eat mbaazi (pigeon peas) in coconut milk. Vibibi is another delicious breakfast item to look out for – these are sweet fluffy pancakes made from coconut and rice and are most popular in the coastal regions.
Lazy Lunches
Lunch is notoriously lazy time of the day while on safari. Early mornings and late evenings mean that by the middle of the day you'll likely want to rest and take it easy, perhaps even indulge in an afternoon siesta. Before easing into the afternoon, you can look forward to multi-course meals that are usually set-up on sundecks, pool pavilions or somewhere in camp where you can soak up the sunshine and views.
Bush picnics are another popular option for guests wanting to leave the confines of camp to enjoy lunch. This activity offers a sense of 'rustic glamour' where you can tuck into a selection of snacks pre-packed into picnic baskets, while also being attended to by dedicated staff.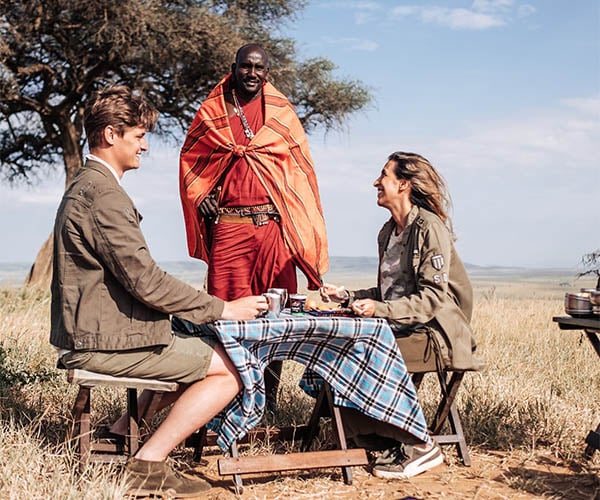 Eat like our Ancestors
In addition to the various glamourous gastronomic affairs, Kenya also offers you the opportunity to get your hands dirty and eat as our ancestors once did – by foraging. In Kenya, the Il Torobo tribe, or Ndorobo as they are sometimes called, which means "a man without cattle", actively practice foraging as a traditional way of life.
---
IMPORTANT NOTICE:
If you are reading this article anywhere other than on A Luxury Travel Blog, then the chances are that this content has been stolen without permission.
Please make a note of the web address above and contact A Luxury Travel Blog to advise them of this issue.
Thank you for your help in combatting content theft.
---
Accompanied by a guide, this immersive activity affords you the opportunity to learn directly from experienced hunter-gatherers about the natural and wild food sources available in the Masai Mara, as well as the medicinal properties of the plants.
After returning to camp with your seasonal bounty (which could include ingredients such as wild asparagus, edible flowers, and berries), the chef will prepare a tasting experience for you to enjoy – a rewarding highlight at the end of an educational and enlightening experience!
This type of "conservancy-to-cuisine" is the safari equivalent of "farm-to-fork" and is an activity not-to-be-missed by those wanting the most authentic taste of Kenya.
Sundowners
When talking about exceptional eating experiences in Kenya, it would be amiss to not mention sundowners as this is perhaps the most quintessential safari experience. After an exciting day of game viewing and adventures, one thing you can always count on is a sundowner drink.
Whether it's enjoyed from a scenic vantage point during an afternoon game drive, or from the comfort of camp, sundowners signify that another wonderful day in the wild is ending and it's time to unwind and ease into the evening. Although a G&T might be the classic choice, it's a good time to experiment with some of the local favourites too. The Dawa, for example, which consists of Absolut Vodka, Lime, Honey, is Kenya's de facto signature sundowner cocktail and is an absolute MUST when on safari.
Whether its breakfast, lunch, dinner, or cocktails, a wild culinary adventure that your taste buds will never forget awaits you in Kenya.
Calvin Cottar is Director and Owner at Cottar's 1920s Safaris. Cottar's 1920s Safaris is an award-winning luxury 1920s safari camp and private bush villa located in the famous 'seventh' natural wonder of the world, the Maasai Mara in Kenya, and owned and managed by the oldest established and continuing safari family in Africa.
If you would like to be a guest blogger on A Luxury Travel Blog in order to raise your profile, please contact us.